Garber Service: Tires & Wheels

Service Your
Vehicle Today!
Monday - Friday: 7:30AM – 5:30PM
Saturday: 8:00AM – 1:00PM
Find your next set of tires. Easily.
We even match any competitor's price!
Are you looking for tires, but not sure what they will cost? Are you not even sure what type of tires your vehicle requires? You can find all of the variations of tires you need - along with the price - with our handy tire finder.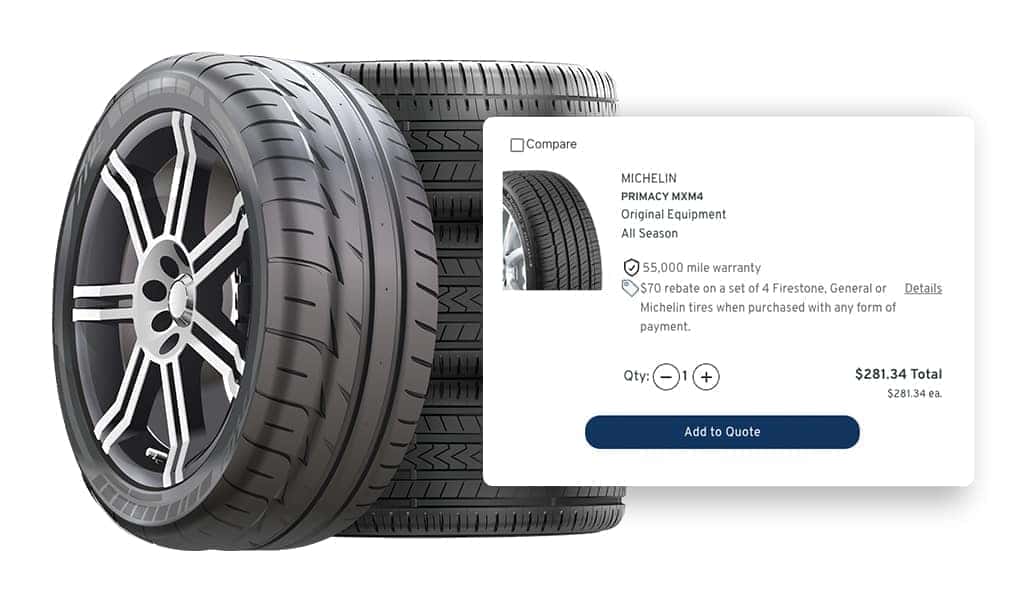 Tires & Tire Repair Near Me in Linwood
Don't wait until you're stranded on the side of the road with a flat tire to get your vehicle's tires and wheels taken care of. When the tread on those tires start to look worn down, it's time to bring it into Garber Chevrolet Linwood to have them swapped out for new ones. Our ASE-certified service technicians have the skill and knowledge to handle tire repairs on any vehicle age, make, or model, even ones not sold by us, so you know you're in good hands.

At Garber Chevrolet Linwood, we make it easy to shop for your next set of tires. Whether you're shopping for a reliable set of all-weather tires or some hardy snow tires to get you through the frigid Michigan winters, our service advisors can help you find the exact tires you're looking for in the price range that you want.

We can also help make sure you're getting the most life out of your vehicle's new tires by performing regular tire rotations for you. Tire rotations are an important maintenance service that ensures the tires are getting even wear and tear, meaning you'll get the most bang for your buck. When you bring your vehicle to us for any vehicle service, we also make sure the tires are properly inflated so they can get the best traction possible.

Are your vehicle's tires due to be replaced? Or are you concerned about uneven wear and tear? Click the button below to schedule a service appointment with Garber Chevrolet Linwood and let our service technicians have a look at it for you!

Pick a day & time that works for you. Pick the services you need. That's it!

Need help getting to work or back home? We have a complimentary shuttle service for you.

We offer financing for all of our repair services, new tire purchases, & more!
Hear from other tire customers.

SERVICE YOUR
VEHICLE TODAY!
Monday - Friday: 7:30AM – 5:30PM
Saturday: 8:00AM – 1:00PM