Go Farther in a 2018 Chevy Bolt EV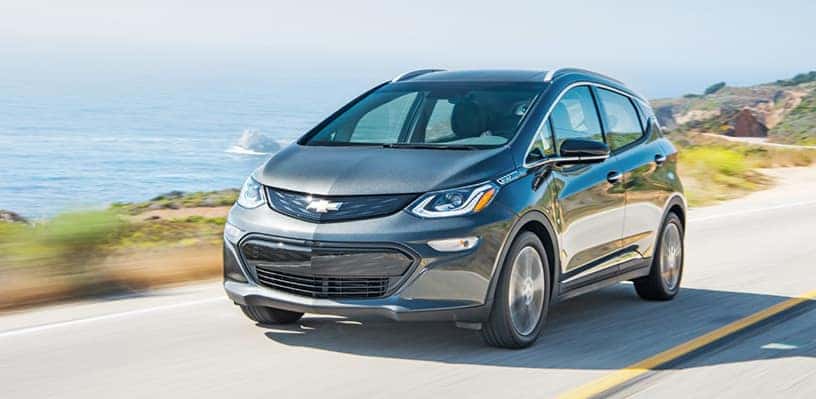 If you're looking for a lean, green machine that can drive you more than 200 miles on a single charge, you want the 2018 Chevrolet Bolt EV. This all-electric hatchback seats five comfortably and offers plenty of pep on the pedal right off the line. It has some of the most cutting-edge technology inside and out with picture-perfect styling so you're sure to turn heads as you drive by. Check out what's available on the 2018 Chevy Bolt EV and then see our current inventory now!
The Bolt EV is quick on its feet and fun to drive. It has a floor-mounted battery that powers a 200 horsepower electric motor and produces 266 lb-ft of torque. The motor is paired with a single-speed transmission and connects to a 60-kWh lithium-ion battery that boasts an EPA-estimated 238 miles on one full charge. Did someone say road trip?
On a standard level 1 charger (a household outlet) the 2018 Bolt EV can regain 4 miles of range per hour. A level 2 charger will allow the car to fully charge from empty in a little over 9 hours while a level 3 DC fast charger allows it to gain up to 90 miles of range in 30 minutes. Plug in at home or at work to keep your vehicle ready for anything.
But plugging in isn't the only way to regain power on the Chevy Bolt EV; you get Regen on Demand. With a simple pull of the paddle on your steering wheel, you can tell the vehicle to slow down without using the brake and convert that energy into additional energy for you to use later. The electricity transfers back to the battery for your convenience.
Plus with available leather seats, you'll discover an interior that's made to impress. The Bolt EV has a 10-inch color touchscreen with connectivity for either your Android Auto or Apple CarPlay so you can access maps, messages, and music quickly and easily. It also has a versatile rear seating area that can fold flat for up to 56.6 cubic feet of cargo space. Feel free to bring along that extra bag on your weekend trip, there's room for it!
As you're getting used to driving all-electric, the Driver Information Center will provide you with customizable data at a glance. You can see your Energy Details like how much battery life is left with projections for range, as well as your Energy History so you can identify patterns and get more out of each charge over time. Chevrolet even added an Energy Score, which is an index score based on factors that may influence energy consumption, such as driving technique, terrain, climate settings and outside temperature.
Get more out of your drive with the eco-conscious 2018 Chevrolet Bolt EV. This affordable electric vehicle is breaking records and earning awards for its innovation and green demeanor. Take a test drive to see what all the buzz is about! See our inventory now.
Images courtesy of Chevrolet Media
Join the Conversation
Comments
comments